As of 18 August 2010, you must register to edit pages on Rodovid (except Rodovid Engine).
Boleslaw I van Polen b. between 965 and 967 d. 17 June 1025
From Rodovid EN
Person:35672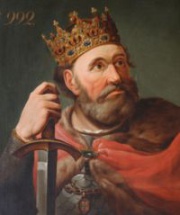 Events
between 965 and 967 birth:
about 984 marriage: ♀ ? [Wettin]
986 marriage: ♀ Judyta Arpad [Arpad] b. 973 d. 1020
986 divorce: ♀ Judyta Arpad [Arpad] b. 973 d. 1020
between 986 and 987 child birth: ♂ Bezprym von Polen [Piasten] b. between 986 and 987 d. 1032
987 marriage: ♀ w Conhilda (Gunnilda) Dobromirovna [Dobrogia] b. 973 d. about 1017
about 989 child birth: ♀ Reglindis [Piasten] b. about 989 d. after 21 March 1016
990 child birth: ♂ Mieszko II Lambert [Piast] b. 990 d. 10 May 1034
between 991 and 1001 child birth: ♀ Prinzessin von Polen [Piasten] b. between 991 and 1001 d. after 14 August 1018
from 992 - 1025 title: князь Польши, 2-й
about 1000 child birth: ♂ w Отто Пяст [Пясты] b. about 1000 d. 1033
from 1003 - 1004 title: князь Чехии, 10-й
1017 child birth: ♀ Mathilde von Polen [Piasten] b. 1017 d. after 1035
3 February 1018 marriage: ♀ w Oda von Meißen [Ekkehardiner] b. between 996 and 1002 d. 1025
from 18 April 1025 - 17 June 1025 title: король Польши, 1-й
17 June 1025 death:
burial: Poznań, Archcathedral Basilica of St. Peter and St. Paul
Notes
973 gijzelaar aan het Duitse hof
992 Hertog van Polen, nadat hij het testament van zijn vader had genegeerd die het land aan zijn stiefmoeder had nagalaten. Boleslaw verbant haar en haar zonen. Polen bestaat dan uit Silezie, Pommeren en Klein-Polen
997 zendt Adalbert van Praag als missionaris naar Pruisen die daar de marteldood sterft. Boleslaw betaalt diens gewicht aan goud om het lijk terug te krijgen en laat het in Giezno begraven.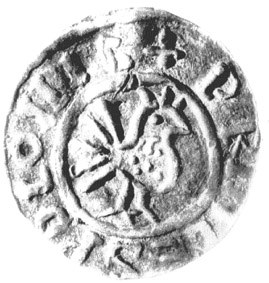 Munt van Boleslaw
999 annexeert Moravie
1000 Otto III bezoekt het graf van Adalbert en verheft Giezno tot aartsbisdom
1000-1001 annexeert Slowakije
1002 Steunt van Ekhard I van Meißen in de koningskeuze. Verovert na diens dood Meissen en Lausitz, en steunt Hendrik van Beieren (de latere Hendrik II). Ontsnapt tijdens een ontmoeting met Hendrik II aan een moordaanslag.
1003 probeert een bondgenootschap te sluiten met Bohemen, tegen Hendrik II. Als Bohemen weigert, neemt Boleslaw de macht in het land over. Hendrik biedt hem aan om Bohemen in leen te geven maar Boleslaw weigert. Hendrik sluit daarop een bondgenootschap met de Lutizen en valt Boleslaw aan.
1004 Na een opstand in Bohemen moet Boleslaw de bezetting opgeven.
1005 Hendrik valt met Bohemen en de Lutizen, Polen aan. Uiteindelijk wordt in Poznan vrede gesloten.
1007 Boleslaw valt de Lutizen aan. Hendrik zegt het vredesverdrag op. Boleslaw rukt op tot Maagdenburg en verovert Lausitz en Bautzen.
1010 Aanval van Hendrik op Polen, zonder veel succes.
1013 vrede van Meresburg, verloving tussen Mieszko II en Richenza van Lotharingen, verdrag van militaire bijstand. Hendrik stuurt troepen voor een (mislukte) veldtocht van Boleslaw tegen Kiev. Daardoor kan en wil Boleslaw geen troepen sturen voor Hendriks tocht naar Italie. Hierdoor weer oplopende spanningen.
1015 aanval van Hendrik op Polen, Hendrik wordt aan de Bober verslagen.
1016 steunt de expeditie van zijn neef Knut van Denemarken tegen Engeland
1017 gelijktijdige aanval van Hendrik en van Jaroslav de Wijze van Kiev. Boleslaw plundert het gebied ten oosten van de Elbe, Mieszko plundert Bohemen.
1018 vrede van Bautzen, in ruil voor trouw aan Hendrik II mag Boleslaw Lausitz en Sorbisch Meissen behouden. Op verzoek van Svjatopolk I van Kiev verdrijft hij Jaroslav de Wijze, met steun van Duitse troepen. De beslissende slag wordt uitgevochten bij de rivier de Bug op 22-23 7. De legers staan aan weerskanten van de rivier en Jaroslav laat de oversteekplaatsen door boogschutters bewaken. Er bestaan meerdere versies over het verloop van de slag maar in ieder geval weet Boleslaw onverwacht de rivier over te steken en Jaroslav te verslaan. Hij bezet Kiev en wil daar zelf gaan regeren, maar wordt door een opstand verdreven. Jaroslav weet uiteindelijk zijn macht weer te herstellen. Wel bezet Boleslaw Roethenië.
1024 roept zichzelf uit tot koning van Polen na de dood van Hendrik II, met toestemming van paus Johannes XIX
Eerste huwelijk: dochter van Rikdag, markgraaf van Meissen, scheiding 985 omdat het huwelijk geen politiek nut meer heeft nadat Bohemen invloed krijgt in het gebied van Meissen
Tweede huwelijk: dochter van Géza van Hongarije, scheiding 987 omdat de Hongarijen niet samen met de Polen tegen Bohemen willen vechten
Vraagt in 1017 een dochter van Vladimir de Grote van Kiev ten huwelijk maar wordt afgwezen
Vierde huwelijk: Oda, dochter van Ekhard I van Meißen
[edit]
Sources
From grandparents to grandchildren
Grandparents
Grandparents
Parents
Parents
Children
Children
Grandchildren
Grandchildren