As of 18 August 2010, you must register to edit pages on Rodovid (except Rodovid Engine).
Harald Sweynssen b. 995 d. 1018
From Rodovid EN
Person:117126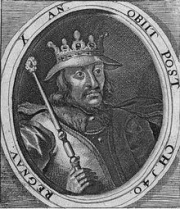 Events
995 birth:
from February 1014 - 1018 title: Roi de Danemark
1018 death:
Notes
| | |
| --- | --- |
| | This record needs sources. Please help this record by adding reliable references. Unsourced material may be challenged and removed. |
This is a controversial record that may be under dispute.
Please read discussion page for details and discuss substantial changes here before making them. Make sure to supply full citations when adding information and consider tagging or removing uncited/unciteable information.

This person is given by some authors as a "make believe" person
Please do not modify this record without special precautions.
From grandparents to grandchildren
Grandparents
Grandparents
Parents
Parents