As of 18 August 2010, you must register to edit pages on Rodovid (except Rodovid Engine).
Andronic Ier Comnène b. about 1118 d. 12 September 1185
From Rodovid EN
Person:11544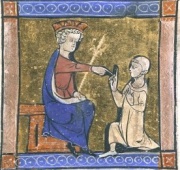 Events
about 1118 birth: Constantinople, Empire byzantin
child birth: ♂ N. /сын Андроника/ Комнин [Комнины]
child birth: ♀ Мария Комнин [Комнины]
marriage: ♀ w Ирина Айнейадисса ? [Айнейадиссы]
about 1145 child birth: ♂ Manuel Comnène [Comnène] b. about 1145 d. 1185
1151 caste: thémarque de Cilicie
1153 caste: thémarque de Naissos
1167 other: maitresse, ♀ Феодора Комнина [Комнины] b. 1144 d. 1180
1168 child birth: ♀ Irene van Byzantium [Byzantium] b. 1168 d. 1185
1183 marriage: ♀ Agnes van Frankrijk [Capet] b. 1171 d. 1240
from 1183 - 12 September 1185 title: empereur byzantin
12 September 1185 death: Constantinople, tué
Notes
Source Wikipedia Andronic Ier Comnène
Il s'opposa à plusieurs reprises à son cousin, l'empereur Manuel Ier Comnène.
1151, sa liaison avec la sœur de la maîtresse du basileus lui valut d'être écarté de Constantinople, il fut envoyé comme thémarque (duc) en Cilicie.
1154, Manuel Ier fut contraint de l'emprisonner lors d'un complot. Il lui jura fidélité éternelle ainsi qu'à son fils Alexis.
1166, au royaume de Jérusalem, il séduisit Philippa d'Antioche (voir en anglais, Philippa d'Antioche), la sœur de Marie d'Antioche, femme de son cousin Manuel Ier Comnène.
1167, il eut une liaison avec sa cousine, la reine Théodora Comnène, veuve du roi Baudouin III de Jérusalem.
1180, Manuel Ier l'éloigna de Constantinople et il l'envoya dans la province du Pont sur la mer Noire.
1180, Manuel Ier mourut.
1182, il fit son entrée à Constantinople et il s'empressa de faire couronner le fils de Manuel Ier, Alexis II Comnène à Sainte-Sophie, certain de pouvoir renverser la régence. Il obligea Alexis II à signer l'arrêt de mort de sa mère, Marie d'Antioche.
1183, il devint co-empereur. Peu après, Alexis II fut étranglé dans son lit et son corps jeté dans le Bosphore.
1183, il devint empereur et il épousa la veuve d'Alexis II, Agnès de France, de cinquante ans sa cadette.
1183-1185, son règne de deux années fut troublé de révoltes.
1185, il devint la victime d'une exécution sanglante, battu, cheveux et dents arrachés, main coupée, emprisonné, éborgné, traîné dans la cité à dos de chameau et suspendu par les pieds dans l'hippodrome.
Sources
↑ - * Voir, dynastie Comnène
From grandparents to grandchildren
Grandparents
Grandparents
Parents
Parents
Children
Children
Grandchildren
Grandchildren