As of 18 August 2010, you must register to edit pages on Rodovid (except Rodovid Engine).
Dirk II von Falkenburg b. 1223 d. 15 October 1268
From Rodovid EN
Person:10390
Events
1223 birth:
1235 marriage: ♀ Margaretha van Gelre [Wassenberg-Gelre] b. 1210 d. 1251
11 January 1246 marriage: ♀ Bartha van Limburg-Monschau [Limburg-Monschau] b. 1225 d. 20 April 1254
1248 child birth: ♀ Isabella (Elisabeth) von Falkenburg (Kleve-Heinsberg) [Cleves-Vandermark] b. 1248 d. 1277
1253 child birth: ♀ Beatrix von Falkenburg [Kleve] b. 1253 d. 17 October 1277
1253 child birth: ♂ Walram de Rossige (van Valkenburg) [Valkenburg] b. 1253 d. 5 September 1302
after 1254 marriage: ♀ Adélaïde de Looz [Looz] b. estimated 1240 d. about 1275
estimated 1265 child birth: ♀ Nn van Valkenburg (Kleve-Heinsberg) [Cleves] b. estimated 1265
15 October 1268 death: Keulen
Notes
Dirk is overleden bij een aanval op de stad Keulen. Aartsbisschop Engelbert II van Valkenburg van Keulen (zijn broer )had een leger van bondgenoten te hulp geroepen om hem te ondersteunen in zijn conflict met de stad Keulen. Dit leger werd aangevoerd door Diederik van Kleef en Arnold van Limburg. 15 10 1268 lukte het 5000 man om door een tunnel bij de Ulrepforte de stad binnen te dringen. De burgers van de stad wisten de indringers echter te verslaan. Dit was de eerste en de laatste maal dat vijandelijke soldaten het middeleeuwse Keulen wisten binnen te dringen. In 1360 werd ter nagedachtenis een gedenksteen in de muur ingemetseld, het oudste monument van Duitsland. Dat stuk van de muur en de gedenksteen bestaan nog steeds.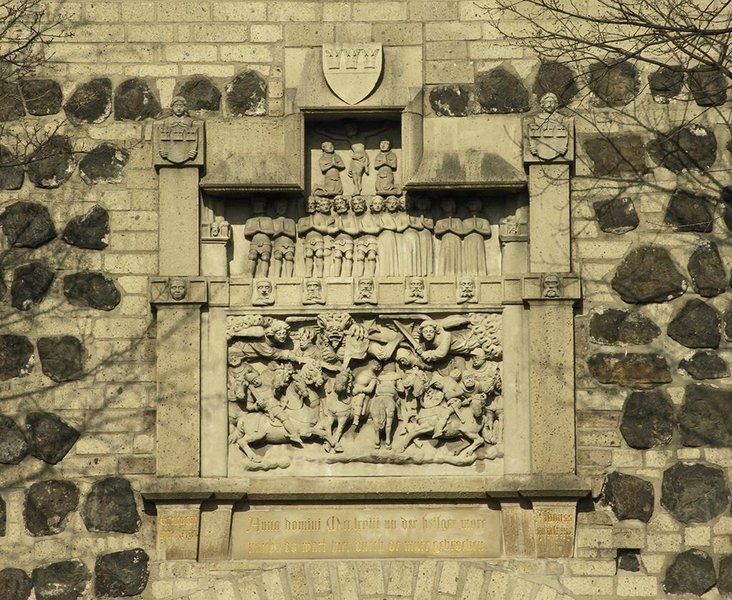 Sources
↑ http://home.planet.nl/~eric.ouwerkerk/generaties/OomsBoeterDroger.htm - Volg de link voor heel veel voorouders
From grandparents to grandchildren