As of 18 August 2010, you must register to edit pages on Rodovid (except Rodovid Engine).
Alexis Comnène b. February 1106 d. 2 August 1142
From Rodovid EN
Person:258168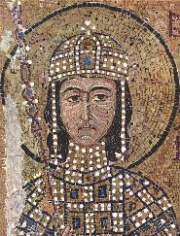 Events
February 1106 birth: Sidirókastro, (aujourd'hui Sidirókastro en Grèce), anciennement Balabista dans l'Empire byzantin
marriage: 1, ♀ Eupraxia ou Zoya Dobrodeia de Kiev - [Riourikide] b. before 1108 d. 16 November 1131
1116 marriage: ♀ Cata ou Cataï Bagration (Comnène) [Bagration] d. 1155
1122 title: co-empereur byzantin
2 August 1142 death: Antalya, anciennement Attalie dans l'Empire byzantin
burial: Constantinople, basilique Sainte-Sophie
Notes
Source Wikipedia Alexis Comnène (1106-1142)
Il fut le fils aîné de l'empereur byzantin Jean II Comnène et de sa femme Irène de Hongrie.
1106, il naquit à Balabista dans l'Empire byzantin.
1122/1123, il fut couronné co-empereur auprès de son père.
1142, il mourut à Antalie d'un accident de chasse.
Il fut inhumé à la basilique Sainte-Sophie.
Sources
↑ - * Voir, dynastie Comnène
From grandparents to grandchildren
Grandparents
Grandparents
Parents
Parents