As of 18 August 2010, you must register to edit pages on Rodovid (except Rodovid Engine).
Eupraxia ou Zoya Dobrodeia de Kiev - b. before 1108 d. 16 November 1131
From Rodovid EN
Person:30203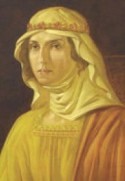 Events
before 1108 birth: Kiev, anciennement principauté de Kiev
title: princesse par naissance
title: impératrice
marriage: 1, ♂ Alexis Comnène [Comnène] b. February 1106 d. 2 August 1142
16 November 1131 death:
Notes
Source Wikipedia Eupraxia Dobrodeia de Kiev
Elle fut la fille de Mstislav Ier et de Christine Ingesdotter.
Elle naquit à Kiev de la principauté de Kiev.
Elle épousa Alexis Comnène et elle reçut le nom d'Irène, d'après sa belle-mère, l'impératrice Irène de Hongrie.
1125, elle donna naissance à une fille nommée Maria.
À la cour impériale de Constantinople, elle rejoignit un cercle d'intellectuelles comptant notamment Anne Comnène.
Elle fut l'auteur du premier traité de médecine connu rédigé par une femme.
From grandparents to grandchildren
Grandparents
Grandparents
Parents
Parents