As of 18 August 2010, you must register to edit pages on Rodovid (except Rodovid Engine).
Magnus de Holstein b. 26 August 1540 d. 18 March 1583
From Rodovid EN
Person:132147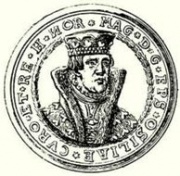 Events
26 August 1540 birth: Copenhague, château de Christiansborg du royaume de Danemark-Norvège
title: duc de Holstein
between 1570 and 1578 title: roi de Livonie
12 April 1573 marriage: Novgorod, ♀ Maria Vladimirovna Staritsky (Magnus) [Staritsky] b. about 1560 d. between 1597 and 1617
July 1580 child birth: ♀ Маria Oldenbourg [Oldenbourg] b. July 1580 d. 1597
January 1581 child birth: Piltene, dans la province de la Courlande, ♀ Evdokia Oldenbourg [Oldenbourg] b. January 1581 d. 18 March 1589
18 March 1583 death: Piltene, château de Piltene de l'Évêché de Courlande
1662 burial: cathédrale de Roskilde
Notes
Source Wipidépia Magnus de Holstein
1559, son frère aîné Frédéric II de Danemark fut couronné.
1560, bien qu'il fût luthérien, il devint évêque d'une partie de l'île de Saaremaa et aussi évêque de l'évêché de Courlande.
1570, pendant la guerre de Livonie, le tsar Ivan IV Vassilievitch proclama le royaume de Livonie et Magnus de Holstein se fit couronner roi de Livonie à Moscou, reconnaissant son allégeance au Tsarat de Russie (mais ce royaume ne fut jamais formellement établi).
Il retourna en Livonie avec vingt mille soldats pour prendre Reval (aujourd'hui Tallin) aux Suédois, mais il abandonna le siège en mars 1571.
1577, ayant perdu la faveur du tsar Ivan IV Vassilievitch le Terrible, il se retourna vers son frère Frédéric II, roi du Danemark qui lui refusa son soutien. Il se tourna alors vers la noblesse allemande de Livonie, mais il fut finalement capturé par les Russes et dut renoncer à son titre royal.
Sources
↑ - * Voir en russe, ancêtres Magnus de Holstein
From grandparents to grandchildren
Grandparents
Grandparents
Parents
Parents
Children
Children