As of 18 August 2010, you must register to edit pages on Rodovid (except Rodovid Engine).
Maria Vladimirovna Staritsky (Magnus) b. about 1560 d. between 1597 and 1617
From Rodovid EN
Person:132150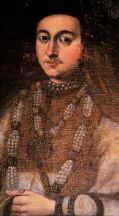 Events
about 1560 birth: Tsarat de Russie
title: princesse par naissance
12 April 1573 marriage: Novgorod, ♂ Magnus de Holstein [Oldenbourg] b. 26 August 1540 d. 18 March 1583
12 April 1573 title: reine de Livonie
July 1580 child birth: ♀ Маria Oldenbourg [Oldenbourg] b. July 1580 d. 1597
January 1581 child birth: Piltene, dans la province de la Courlande, ♀ Evdokia Oldenbourg [Oldenbourg] b. January 1581 d. 18 March 1589
between 1597 and 1617 death: couvent de Novodievitchi du Tsarat de Russie
Notes

Elle fut cousine avec Ivan Nikititch (l'aîné) Odoevsky.
Source Wikipedia Мария Старицкая / Maria Vladimirovna (Martha) Staritsky (Magnus)
Ses parents furent contraints de s'empoisonner sous l'opritchnina du tsar Ivan IV Vassilievitch.
Sa sœur Evdokia Vladimirovna fut fiancée à Magnus, prince danois, mais elle mourut subitement.
1570, elle se retrouva fiancée à 10 ans et mariée à 13 ans (différence de 20 ans avec son mari).
1583, elle fut veuve à 23 ans.
1588, immédiatement après son retour, elle fut tonsurée sous le nom de Martha et emprisonnée avec sa fille dans le monastère Podsossenski et en 1589, sa fille décéda subitement.
1610, elle s'installa au couvent de Novodievitchi.
From grandparents to grandchildren
Grandparents
Grandparents
Parents
Parents
Children
Children