As of 18 August 2010, you must register to edit pages on Rodovid (except Rodovid Engine).
Hermannus Albert van den Akker b. 19 November 1944
From Rodovid EN
Person:335604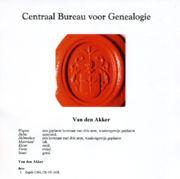 Events
19 November 1944 birth: Leeuwarden, Friesland, Nederland
31 July 1970 marriage: Leeuwarden, Friesland, Nederland, ♀ Dieuwke Flobbe [Flobbe] b. 7 December 1946
29 November 1977 child birth: Bramsche, Niedersachsen, West-Duitsland, ♀ Esther Hinderkina Grietina van den Akker [van den Akker] b. 29 November 1977
27 October 1980 child birth: Leeuwarden, Friesland, Nederland, ♀ Aaltje Ingeborg van den Akker [van den Akker] b. 27 October 1980
1990 occupation: Leeuwarden, Friesland, Nederland, Photographer, Royal Dutch Airforce,retired.
Notes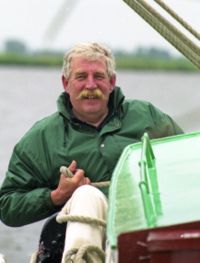 The year is 16 July 1479. It is St. Annadag. In Hidaard Trijn Fedderix dr Mensema and her husband Benedict's Tibbenge in the presence of Benedict Tiebbenga and father Claes Haersma the Saint Annaleen. A few possessions belong To land in the vicinity of Makkum (Friesland), the Netherlands and a monetary amount. Over 517 years later (1996). In Makkum (Friesland) the former bank Director Wieger Postma is about all kinds of documents which are now in the Sint Annaleen. In the cash is now an amount of GLD 200,000 (APR 12 000 GLD per year). The Foundation will collect further rental income of the 7 hectares of land that belongs to the loan. Some lots would still have been in possession of the loan. One of those historical valuable land is slightly north of Makkum. The Sint Annaleen is for descendants of Trijn Feddericks and Meinsma that Chr HBO or university education. This is a sore point: who among the descendants of the Hidaarder pair? The Foundation holds a in the 1950s, booklet, which created a large number of names of families of children for the State. There is no doubt that The non-exhaustive list provides the Board with a reasonable certainty (see o. a. this family tree). Once a year, take a look at the mayors and Councillors of Wûnseradeel after the books. Source: Leeuwarder Courant, 4 October 1996) Most of the information contained in this family tree are from the booklet Ien and oar oer IT ST. ANNA LIEN to Hidaerd. Edited by genealoog R. S Roorda to Leeuwarden. Copy of an instrument on the statutes, Sint Annaleen to Makkum. Previously Mr. M. Wallis de Vries, notary Makkum
Rein van den Akker has worked to the van den Akker family tree up to date. In particular, the data after 1900, are done. He wrote at the time, when there were no e-mail traffic was possible, the van den Akkers on a regular basis, a letter in which he requested that the last family history. I would like to thank you for this great efforts to ensure that the family tree. Herman van den Akker
The (stiftingsbrief) of the Sint Annaleen, on parchment is contained in the annexes of the Civ Sentinsjes of the Court of Fryslan 27 Oct 1756 nr 4.
Trijn Fredderix dr Mensema (Meinsma) tot Hijdaert bij wille ende consent van mijn man Benedictus Idserts Tibbenga bespreeke / ick soodanig landen daer nu leggen tot Meckum (Makkum) bij de Zeedijck tot profijt van mijn erfgenaemen en dat op Sinte Anna dach, op kenneisse van onse pastoor daer nu woondt tot Hijdaert, omtrent ses en dartich ponde/maten groot. Daar op mogen myn vrienden en myn mans vrienden mogen daerop hebben een Clerck op de / opcomsten te leren ende goede Stichtinge te holden ofte dat het mochte vallen dat sij niet met de vrienden / konden verdragen, soo sal de abt van oldeclooster ende pastoor van Hijdaerdt de bequaemste daeruijt te nemen ende / daerop te leeren . Ende daer sullen de vrienden met tofreden wesen, oftet mochte komen dar daer gheen Clercken waren / soe mogen de armste frienden het sij man offt wijffs de opcomsten genieten so lange als daer een bequaem Clerck weer / opcomsten leeren endat sal duijren tot vijftichendetwintich Jaeren toe. Ende dat begere ick Trijn Mensema dat se dat / met malcanderen sullen onderholden ende niet in vremder graed niet te laten comen. Offte het sal vervallen an oldeclooster / offte convent ende dat daer frienden wonen mogen ende opcomsten an de Clerck te betalen Ende dat is myn uijterste / wille ende ick heer Claes pastoor darom gebeden om voor my te bevesttigen ende seluen geschreven ende ick Benedictus Tibbenga tot meerdr vastichheyt met mijn egene handt ondergeschreven ende dat op Sint Anna dach 26 July Anno 1479.
For all Frisians, spread all over the word, here a piece of home.
The journey of Oepke Bonnema and Pietje Hollander
[edit]
Sources
↑ =Mail= - hermanrodovid@gmail.com
From grandparents to grandchildren
Grandparents

Grandparents

Parents

Parents

Children

Children