As of 18 August 2010, you must register to edit pages on Rodovid (except Rodovid Engine).
Menpehtyre Ramesses I ? (Pa-ra-mes-su) d. June -1290
From Rodovid EN
Person:81010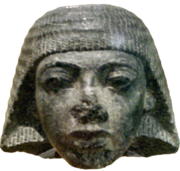 Events
child birth: ♂ Meryre [Rameside]
-1307 child birth: ♂ Amenhirkhepeshef (Amenhirwenemef) ? (Epherat & Minas) [19th Dynasty - Egypt] b. -1307 d. about -1263
between -1295 and -1290 title: Pharaoh of Egypt
June -1290 death:
burial: KV16, Valley of the Kings
Notes
| | |
| --- | --- |
| | This record needs sources. Please help this record by adding reliable references. Unsourced material may be challenged and removed. |
This is a controversial record that may be under dispute.
Please read discussion page for details and discuss substantial changes here before making them. Make sure to supply full citations when adding information and consider tagging or removing uncited/unciteable information.
[edit]
Sources
↑ Aidan Dodson & Dyan Hilton, The Complete Royal Families of Ancient Egypt, Thames & Hudson (2004) ISBN 0-500-05128-3, p.175 - Son of Setishuta
↑ Eugene Cruz-Uribe: The Father of Ramses I: OI 11456 (JNES 37, no. 3, 1978) -
From grandparents to grandchildren
Grandparents
Grandparents
Parents
Parents
Children
Children
Grandchildren
Grandchildren