As of 18 August 2010, you must register to edit pages on Rodovid (except Rodovid Engine).
Irina Alexandrovna Romanov (Youssoupoff) b. 3 July 1895 d. 26 February 1970
From Rodovid EN
Person:80091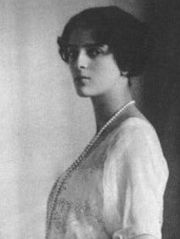 Events
3 July 1895 birth: Peterhof, gouvernement de Saint-Pétersbourg de l'Empire russe
title: princesse par mariage
title: princesse de sang impérial par naissance
title: ordre de Sainte-Catherine
22 February 1914 marriage: Saint Petersburg, ♂ Felix Felixovich Yusupov [Yusupov] b. 11 March 1887 d. 27 September 1967
21 March 1915 child birth: Petrograd, gouvernement de Petrograd de l'Empire russe, ♀ Irina Felixovna Youssoupoff (Soumarokov-Elston) (Cheremetiev) [Youssoupoff] b. 21 March 1915 d. 30 August 1983
26 February 1970 death: Paris (75), pendant la gouvernance du président de la République française Georges Pompidou
burial: Sainte-Geneviève-des-Bois (91), cimetière russe
Notes
Elle fut l'arrière-petite-fille de l'empereur Nikolaï I Pavlovitch par son père.
Elle fut la petite-fille de l'empereur Alexandre III Alexandrovitch par sa mère.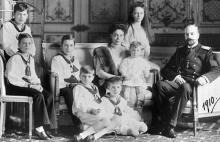 Source Wikipedia Irina Alexandrovna de Russie et ru
Elle fut la seule fille du grand-duc Alexandre Mikhaïlovitch et de la grande-duchesse Xenia Alexandrovna, nièce de l'empereur Nikolaï II Alexandrovitch.
1914, elle épousa au palais Anitchkov le prince Félix Felixovitch Youssoupoff, comte Soumarokov-Elston qui après la mort de son frère aîné Nikolaï Felixovitch en 1908 devint le seul héritier de la fortune familiale Youssoupoff, l'une des personnes les plus riches de l'époque.
Il fut une personne aimant s'habiller en femme et scandalisant la société avec la rumeur qu'il fut l'amant du grand-duc Dmitri Pavlovitch, un parent d'Irina.
1915, sa fille Irina Felixovitch naquit à Petrograd.
Elle reçut l'Ordre de Sainte-Catherine.
1916, son mari devint complice avec son ami le grand-duc Dmitri Pavlovitch et Vladimir Mitrofanovitch Pourichkevitch du meurtre de Grigori Raspoutine, et le couple déménagea dans la propriété de (voir en russe, Rakitnoe) du gouvernement de Koursk.
1919, parmi les autres Romanov qui se trouvèrent alors en Crimée, elle partit en famille sur le cuirassé britannique Marlboro spécialement envoyé à cet effet et la famille vécut à Paris.
1934, ils gagnèrent un procès contre la Metro-Goldwyn-Mayer car dans le film Raspoutine et l'Impératrice, elle fut créditée de relation sexuelle avec Grigori Raspoutine.
1970, elle décéda 3 ans après le décès de son mari à Paris pendant la gouvernance du président de la République française Georges Pompidou.
Elle fut enterrée dans la tombe de la mère de son mari, Zénaïde Nikolaïevna Soumarokov-Elston, née Youssoupoff, au cimetière de Sainte-Geneviève-des-Bois car l'argent manqua pour une place de plus dans le cimetière.
From grandparents to grandchildren
Grandparents
Grandparents
Parents
Parents
Children
Children
Grandchildren
Grandchildren