As of 18 August 2010, you must register to edit pages on Rodovid (except Rodovid Engine).
Louise Alexandra Mary Irene Mountbatten b. 13 July 1889 d. 7 March 1965
From Rodovid EN
Person:49609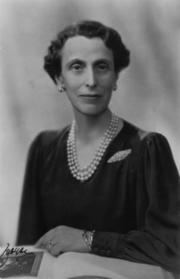 Events
13 July 1889 birth: Seeheim-Jugenheim, Hesse, Germany
3 November 1923 marriage: Chapel Royal, St. James Palace, England, ♂ Oscar Fredrik Wilhelm Olaf Gustaf Adolf ? (Gustaf VI Adolf) [Bernadotte] b. 11 November 1882 d. 15 September 1973
3 November 1923 title: Stockholm, Princesse héritière de Suède
29 October 1950 title: Stockholm, Queen of Suède
7 March 1965 death: Stockholm, Sweden
Notes
As the Crown Princess of Sweden, Louise was once being shown around a cathedral by a bishop trying to show off his knowledge of English. He approached a chest of drawers and said, "I will now open these trousers and show some more precious treasures to Your Royal Highness."
From grandparents to grandchildren
Grandparents
Grandparents
Parents
Parents