As of 18 August 2010, you must register to edit pages on Rodovid (except Rodovid Engine).
Elizabeth Stewart b. 17 July 1610 d. 23 January 1674
From Rodovid EN
Person:41588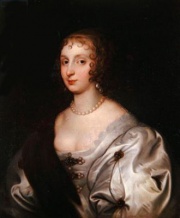 Events
17 July 1610 birth: Barrington (Somerset), England
23 January 1674 death: London, England
28 January 1674 burial: Arundel (England)
Notes
REFN: HWS128658 Ancestral File Number:<AFN> 9FCN-5X
"FamilySearch® Ancestral File™ v4.19"
The Church of Jesus Christ of Latter-day Saints, 3 Feb 2001
"Genealogical Research of Kirk Larson"
Larson, Kirk, Personal Research Works including Bethune & Hohenlohe Descendants, 1981-2001, Kirk Larson, Private Library
[edit]
Sources
↑ "FamilySearch® Ancestral File™ v4.19" -
↑ "Genealogical Research of Kirk Larson" -
From grandparents to grandchildren
Grandparents
♂
William Clifton
birth: 1571, Leighton Bromswold, Huntingdonshire, England
baptism lds: e
endownment lds: e
seal. to parents lds: e
♂
John Clifton
birth: 1573, Leighton Bromswold, Huntingdonshire, England
baptism lds: e
endownment lds: e
seal. to parents lds: e
♂
Amias Clifton
birth: 1575, Leighton Bromswold, Huntingdonshire, England
baptism lds: e
endownment lds: e
seal. to parents lds: e
Grandparents
Parents
Parents
== 3 ==
♂
John Stewart
birth: 23 October 1621, Dunbarton, Scotland, Lennox Hills

♂
James Stewart (4. Duke of Lennox)
== 3 ==