As of 18 August 2010, you must register to edit pages on Rodovid (except Rodovid Engine).
Joanna Grudzinska b. 17 May 1795 d. 17 November 1831
From Rodovid EN
Person:364595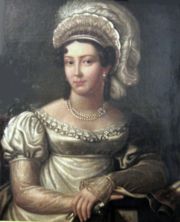 Events
17 May 1795 birth: Posen
title: Prinzessin Lovich (Lovitska)
title: Gräfin
24 May 1820 marriage: Warschau, ♂ Constantin Pavlovitch de Russie [Romanov] b. 8 May 1779 d. 27 June 1831
17 November 1831 death: Tsarske Dorf, Rosіyska Іmperіya, 29/11
Notes
zweite Frau Vel.Knyazya Konstantin Pawlowitsch.
Sie war die Tochter des letzten Besitzers Chodzież Anthony Grudzinski. 27. Mai 1820 heiratete sie den Großherzog, der für sie wurde mit Prinzessin Julia Saxe-Coburg-Saalfeld war geschieden, und im Jahr 1823 verzichtete auf seine Rechte auf den Thron. Nach der Hochzeit, der Titel der Herzogin von Lowicz. Ihre Schwester Maria (Antonio) war die Ehefrau von General Dezydery Chłapowski, dann einer der Führer der November-Aufstand. Zur Kirche - Nach seinem Tod wurde in Zarskoje Selo, wo ihre sterblichen Überreste exhumiert wurden 1929 und zog nach den Rabbinern, in der Nähe Knochen begraben. Peter und Paul, wo er begraben ihre Schwester und ihr Ehemann.
Sources
From grandparents to grandchildren
Grandparents
Grandparents
Parents
Parents
== 3 ==

♂
Constantin Pavlovitch de Russie
== 3 ==