As of 18 August 2010, you must register to edit pages on Rodovid (except Rodovid Engine).
Katarzyna Jagiellonka (Waza) b. 1 November 1526 d. 16 September 1583
From Rodovid EN
Person:258394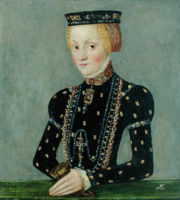 Events
1 November 1526 birth: Kraków
from 1562 - title: królewna polska
4 October 1562 marriage: ♂ Johan III Vasa [Vasa] b. 1537 d. 1592
20 June 1566 child birth: Mariefred, Gripsholm castle, ♂ Sigismund III (Zygmunt Iii) Vasa [Vasa] b. 20 June 1566 d. 30 April 1632
1568 child birth: ♀ Anna Wazówna [Waza] b. 1568 d. 1625
from 1569 - title: królowa szwedzka
16 September 1583 death:
Notes
из рода Ягеллонов. Герцогиня Финляндская (1562), королева Швеции (1569), великая герцогиня Финляндская (1581). В 1561 году к ней сватался Иван Грозный, но 4 октября 1562 года Катерина в Вильно вышла замуж за сына шведского короля Густава I и брата правящего на тот момент короля Эрика XIV, герцога Финляндского Юхана. Юхан не получил от брата разрешения на брак. Эрик XIV не противился сначала этому браку. Но в течение 1561 года произошла резкая перемена в политических отношениях Польши и Швеции вследствие борьбы за Ливонию. При этих условиях Эрику XIV было неудобно, чтобы его брат породнился с польским королем, и он стал отговаривать Юхана от предположенного брака, однако вопреки желанию Эрика XIV свадьба состоялась.
From grandparents to grandchildren
Grandparents
Grandparents
Parents
Parents
Children
Children
Grandchildren
Grandchildren