As of 18 August 2010, you must register to edit pages on Rodovid (except Rodovid Engine).
Amenmose (Ibarim) Pen-Nekhebet (Ahmose Si-Tayit, Ahmose Ben-Abana) d. about -1450
From Rodovid EN
Person:79267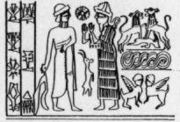 Lineage
Historical Abraham
Sex
Male
Full name (at birth)
Amenmose (Ibarim) Pen-Nekhebet
Other last names
Ahmose Si-Tayit, Ahmose Ben-Abana
Other given names
Ahmenophis [Egyptian], Abrahim ben Terah [Hebrew], Ahmose Pen-Nekhebet [Egyptian], Idrimi Alalah [Hurrian], Agnomain IlTait [Gaelic], Abdin [Zoroastrian Tradition], Obden [Zoroastrian Tradition], Othdin [Zoroastrian Tradition], Artatama I (Hittite), Ibarum (Akkadian), Iddin (Babylonian)
Parents
Events
birth: Ur Kaśdim (Founded in 1687 by Ur son of Kesed), (Founded in 1687 by Ur son of Kesed)
child birth: ♂ Amenemhat (Ammuna) ? (Amenophis, Muwatalli I) [Hittite-Ammonites]
military service: Sodom, Edumea, Battle of Sodom
occupation: Egypt, Career Soldier / High Priest / Queen's Steward
residence: Zahi, Phoenicia, Commander of the Legions
residence: Naharin Hatti, Syria, Commander of the Legions
residence: Northern Imukehek, (Mekkah)
residence: Paddan-aram, Exile
nationality: Kashkan, Speaker of Palikur, Egyptian, Hattusi
title: King of Ebla
about -1580 child birth: ♂ Tutmoses III Isetimose ([Historical]) [18th Dynasty] b. about -1580 d. -1450
before -1430 religion: Tyrwazi
estimated -1425 religion: Muasalim Devotee and Priest of El Elyon (Elohim/AlAllah)
death: During the reign of Thutmoses III
about -1450 death: Alalakh, Hurria
burial: DB-320, Lower level of Machpelah (the double Tomb) of Khebron, (Hebrew sources say Hebron)
Notes
Contemporaries According to Autobiography
The Autobiography of Amenmose Pen-Nekhebet was authored during the reign of Thutmose III. It is clear that he lived a very long and active life having served faithfully at the court of 6 Pharaohs and conquered in their names extensively throughout Turkey, Libya (N. Africa), Canaan, Sinai, Syria, Arabian Penninsula, Nubia, Phoenicia and other areas of the Mesopotamian Valleys.
Tayit-Tetian of Arzawa (1570-1550?)
Nebpehtyre, Ahmose I (1570-1546)
Djeserkare, Amenhotep I (1546-1527)
Akheperkare, Thutmose I (1527-1515)
Akheperenre, Thutmose II (1515-1498)
Maatkare, Hatshepsut (1498-1483)
Thutmose III (b.1504-1450), who was alive
Historical Abraham
According to Akkadian and Hittite historical records Abraham (Ibarim) the Son of Terach of Ur, whom Jews, Christians, and Muslims claim as an ancestor is a composite hero composed of the life histories, deeds, and families of two (possibly three) persons of differing generations, including two princes from the Akkadian House of Sargon. Sources differ with regard to the age of this Abraham due in part to the difference in calendars systems used in the region which were based on differing local agrarian cycles, and in part because of the span of generations. It is interesting to note however that in all records (regardless of the calendar) he survived to great old age.
Another person who may be identified with Abraham is Hammurabi (First Babylonian Dynasty, b. -1810 d. -1750). The dating of the Babylonian first dynasty is highly problematic due to conditions where near constant flooding has deposited debris from older (more ancient) layers over newer (more recent) artifacts. Furthermore there is dispute in the interpretation of some of the Sumerian texts which describe certain astronomical events by which the reigns of the Babylonian First Dynasty are dated. Some scholars believe the astral events are in reference to an eclipse of certain planets, while others maintain the event described is a rare combination of solar and lunar eclipses which occurred within a single 48 hr period. Hammurabi is said to have been a contemporary of Abraham and is assigned a different pedigree, however examination of the ancient records indicate that Hammurabi may have been the son in law of his predecessor rather than the actual son (according to Hurrian and Hittite inheritance patterns) and that his sons and grandsons may have been the individuals described in Habiru tradition as the sons of Kettura the Hittite.
Ismaelites
It becomes apparent through careful examination of Hittite, Egyptian, and Mesopotamian sources that one of the individuals called Abraham the Patriarch can be correctly identified as an Arzuwan Prince whose mother was a princess of the house of Sargon. This prince allied himself with Egypt by marrying Hatshebiset (Hagar) the daughter of Tutmoses II and Hatshepsut. Hatshepsut was also the mother of Riba-Meriba who became the foster mother of Ebusepis/Isaac.
Eberites
KINSHIP PATTERNS OF THE HITTITES
The Kinship pattern of the Ancient Hitties was unique in that as it merged with the Assyrian lineages it exhibited a unique variation. The Hittite matriarchal system was synthesized with the Assyrian Patriarchal to form a unique kinship and inheritance pattern wherein the son in law of the king was adopted by the king. Upon marriage to the king's daughter, a man would become the king's son. Evidence of this kinship pattern is evident in the Assyrian King's list and in the Hebrew Bible where the lineage of Sargon merged with the Hanigalbat kings of Anatolia. Abraham refers to his wife Sarah as his sister. Many biblical scholars have wrestled with Abraham's dissembling with regard to his wife's status, the truth however is clear in the light of the Kinship patterns in the Assyrio-Hittite nobility. Upon marriage to Sarah, Abraham was elevated to the status of Sarah's brother, son of her father.
Mythological Abraham
Click here to view the Rodovid record for the Abraham of Hebrew tradition
[edit]
Sources
From grandparents to grandchildren
Grandparents

Grandparents

Parents

Parents

Children

Children

Grandchildren

Grandchildren