As of 18 August 2010, you must register to edit pages on Rodovid (except Rodovid Engine).
Friederica Charlotte Marie (Elena Pawlowna) Württemberg b. 6 January 1807 d. 22 January 1873
From Rodovid EN
Person:58587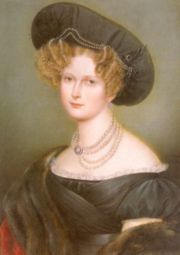 Events
6 January 1807 birth: Stuttgart
title: принцесса Вюртембергская
1823 other: приняла православие
20 February 1824 marriage: ♂ Михаил Павлович Романов [Романовы] b. 28 January 1798 d. 10 September 1849
from 20 February 1824 - 22 January 1873 title: Великая княгиня
9 March 1825 child birth: Moscow, ♂ Maria Mikhailovna Romanova [Romanov] b. 9 March 1825 d. 19 November 1846
26 May 1826 child birth: Санкт-Петербург, Россия, ♀ Elisaveta Mikhailovna Romanova [Romanov] b. 26 May 1826 d. 28 January 1845
28 August 1827 child birth: Saint Petersburg, Russia, ♀ Ekaterina Mikhailovna Romanova [Romanov] b. 28 August 1827 d. 12 May 1894
28 January 1831 child birth: Москва, Россия, ♀ Александра Михайловна ? (Романова, Романовы) [?] b. 28 January 1831
27 October 1834 child birth: Moskau, Russland, ♀ w Anna Michailowna Oldenburg-Romanow von Rußland [Romanow] b. 27 October 1834 d. 22 March 1836
22 January 1873 death: Stuttgart
burial: Петропавловский собор, Санкт-Петербург, Россия
Notes

---
Attention ! All or part of this page is written in a language that most users of Rodovid EN can not read: Please translate here
---
Attention ! Tout ou partie de cette page est rédigée dans une langue que la plupart des utilisateurs de Rodovid EN ne savent pas lire: S.v.p. la traduire ici même;
---
Atención ! Toda o partes de esta página están en un idioma que los usuarios de Rodovid EN no comprenden. Por favor tradúcela.
---
LET OP ! Een gedeelte van of deze gehele pagina is geschreven in een taal die de meeste gebruikers van Rodovid EN niet of met grote moeite kunnen lezen. Wij stellen het byzonder op prijs, als u deze tekst zou willen vertalen !
---
Achtung ! Diese ganze Seite oder Teile der Seite sind in einer Sprache, die die meisten der Nutzer von Rodovid EN nicht verstehen. Bitte übersetze sie !
---
Родовід на сьогодні має 19 локалізацій. До того ж кілька локалізацій є процесі розробки.
Така система створена для того, щоб користувачі могли заводити свій родовід тими мовами, якими їм це зручніше робити.
Крім того, така система полегшує пошук для інших користувачів.
Коли ви заводите запис мовою відмінною від мови локалізації, ви проявляєте неповагу до інших учасників проекту.
Якщо ви помилилися, ви можете привести запис у відповідність до цієї локалізації, або створити його відповідник бажаною для вас мовою (як це зробити див. у довідці

благотворительница, государственная и общественная деятельница, известная сторонница отмены крепостного права и Великих реформ середины XIX века.
From grandparents to grandchildren
Grandparents
Grandparents
Parents
Parents
Children
Children
Grandchildren
Grandchildren