As of 18 August 2010, you must register to edit pages on Rodovid (except Rodovid Engine).
Álmos (Almos) ? (of the Magyars) b. estimated 820 d. about 895
From Rodovid EN
Person:45709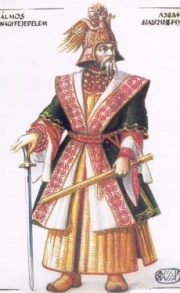 Events
estimated 820 birth:
residence: Holy City of Al-Amut (Arsania)
estimated 850 child birth: Hungary, Pannonia, ♂ Árpád (Arpad) Magyar [Arpad] b. estimated 850 d. 907
about 895 death:
Notes
| | |
| --- | --- |
| | This record needs sources. Please help this record by adding reliable references. Unsourced material may be challenged and removed. |
The legendary names Ügyek and Emese would translate as "holy" and "mother" by a Roman, another name given for Almos father is Elod which would give them connection to the Khazarian Hebrews. It is suspected that the names are not conflicting and that the name Elod Ugyek would be the proper designation of the father of Almos. The name Almos in Hungarian means Dream. This particular tribe of Magyars originated in an area that was heavily influenced by the Eastern Samarite/Langobardic/tradition which included a belief in Semi-Divine Priest Kings, and Kingly sacrifice.
Eleud, the son of Ugek by the daughter of Eunodbilia in Scythia had a son, who was named Almus because in a dream of his mother there appeared a bird in the shape of a hawk who impregnated her, and from her womb a fast-flowing stream began to flow, but it was in foreign lands that it grew and propagated. So it happened that from her loins a great line of kings was born
[edit]
Sources
↑ Chronicon Pictum - Almus qui fuit Eleud, qui fuit Vgeg, qui fuit Ed, qui fuit Chaba, qui fuit Ethele
From grandparents to grandchildren
Grandparents
Grandparents
Parents
Parents
== 3 ==
== 3 ==
Children
Children
Grandchildren
Grandchildren