As of 18 August 2010, you must register to edit pages on Rodovid (except Rodovid Engine).
Catarina Henriqueta de Bragança b. 25 November 1638 d. 31 December 1705
From Rodovid EN
Person:39713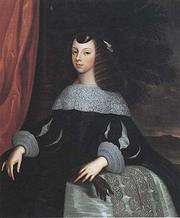 Events
25 November 1638 birth: Vila Viçosa, Portugal, Ducal Palace of Vila Viçosa
3 May 1662 title: Queen Consort of England
22 May 1662 marriage: Portsmouth (Hampshire), England, ♂ Charles II Stuart [Stuart] b. 29 May 1630 d. 6 February 1685
31 December 1705 death: Lisbon, Portugal, 67 years old
Notes
1638–1705, queen consort of Charles II of England, daughter of John IV of Portugal. She was married to Charles in 1662. As part of her dowry England secured Bombay and Tangier. Unpopular in England for her Roman Catholic faith, she also had to suffer the humiliation of her husband's infidelities and the disappointment of her own childlessness. In 1678 she was accused by Titus Oates of a plot to poison the king but was protected from the charge by Charles himself. After William III's accession she returned to Portugal, where she supported the commercial Treaty of Methuen (1703) with England, and in 1704 she acted as regent for her brother, Peter II.
Source: http://www.bartleby.com/65/ca/CathrinBra.html
From grandparents to grandchildren
Grandparents
Grandparents
Parents
Parents
== 3 ==

♂
Peter II of Portugal

♂
Alfons VI von Portugal

♂
Charles II Stuart
birth: 29 May 1630, City of Westminster, England,
St. James Palace
baptism: 27 June 1630, Londres
title: from 1660 - 6 February 1685,
King of England
title: from 29 May 1660 - 6 February 1685, Londres,
Roi d'Angleterre, d'Ecosse et d'Irlande
other: from 23 April 1661 - 6 February 1685, Londres,
Sacre
marriage
:
♀
Catarina Henriqueta de Bragança
, Portsmouth (Hampshire), England
death: 6 February 1685, London, England,
Palace of Whitehall
== 3 ==