As of 18 August 2010, you must register to edit pages on Rodovid (except Rodovid Engine).
1. Alawi Ammil Al Fagih (Sayidina Al-Faqih Al-Muqoddam Muhammad bin Ali bin Muhammad Shohib Mirbath)
From Rodovid EN
Person:359658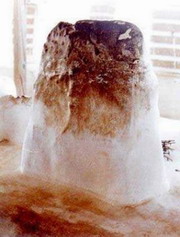 Events
birth: Tarim, Hadramaut, 573 H.
child birth: ♂ 3. Abdurrahman [BaAlawi Al Husaini]
574 child birth: Hadramaut, ♂ Sayyid Abdul Malik [Azmatkhan] b. 574 d. 653
death: Tarim, Hadramaut, 653 H.
Notes
Hilal Achmar Link
Makam Sayidina Al-Faqih Al-Muqoddam Muhammad bin Ali bin Muhammad Shohib Mirbath. Lahir di Tarim tahun 573 H, wafat tahun 653 H dan dimakamkan di Zanbal, Tarim. Beliau mematahkan pedang dan menganjurkan agar manusia hidup rukun dan damai. Beliau sangat menyedari bahwa datuk moyang beliau yang berkecimpung di dunia politik banyak yang terbunuh. Foto dan ket. bersumber dari:
http://www.asyraaf.net/aktiviti/galeri/displayimage.php?album=5&pos=10
Sources
From grandparents to grandchildren
Grandparents
Grandparents
Parents
Parents
== 3 ==
== 3 ==
Children
Children
Grandchildren
Grandchildren