As of 18 August 2010, you must register to edit pages on Rodovid (except Rodovid Engine).
Laurens Jan Brinkhorst b. 28 March 1937
From Rodovid EN
Person:328617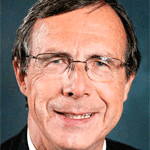 Events
28 March 1937 birth: Zwolle, Overijssel, Netherlands
other: Ridder in de orde van de Ned. Leeuw
marriage: ♀ Jantien Heringa [Heringa] b. 2 February 1935
25 May 1966 child birth: Leiden, South Holland, Netherlands, ♀ Petra Laurentien Brinkhorst [Brinkhorst] b. 25 May 1966
Notes
Mr.jur. Leiden 1959, M.A. Public Law and Government Columbia University (New York) 1961, medewerker advocatenkantoor New York, hoofdassistent.Wetensch. medew. 1961-1967 en waarnemend. directeur 1966 Europa Instituut te Leiden, lector Recht van de Internationale Organisaties ald. 1965. Buitengew. 1966 en gew. 1967-1973 hoogleraar Europees Recht te Groningen, staatssecr. van Buitenl. Zaken 1973-1977, lid Tweede Kamer 1977-1982, Hoofd delegatie Europese Commissie in Japan 1982-1987, Dir.-gen. Milieuzaken, Consumentenbelangen en Nucleaire Veiligheid 1987-1989 en Milieuzaken, Nucleaire Veiligheid en Burgerbelangen 1989-1994 Commissie van de Europese Gemeensch., lid Europees Parlement 1994-1999,
From grandparents to grandchildren
Grandparents
Grandparents
Parents
Parents
== 3 ==
♀
Jantien Heringa
birth: 2 February 1935, Voorburg, South Holland, Netherlands
marriage
:
♂
Laurens Jan Brinkhorst
occupation: 1975,
Drs. Romaanse taal- en letterkunde Leiden 1982, lerares Frans 1962-1964, 1975-1977,
occupation: 1998, Brussels, Belgium,
Presidente Association des Femmes d'Europe 1998.
== 3 ==
Children

♂
Constantijn Christof Frederik Aschwin
Children
Grandchildren
Grandchildren