As of 18 August 2010, you must register to edit pages on Rodovid (except Rodovid Engine).
Charlotte-Amalia-Isabella (Elizaveta Fedorovna) von Wartensleben (Moussine-Pouchkine) b. 7 March 1758 d. 27 August 1835
From Rodovid EN
Person:310429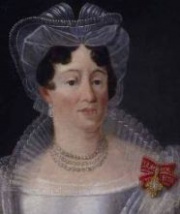 Events
7 March 1758 birth:
title: comtesse par naissance
title: comtesse par mariage
1788 marriage: 2, ♂ Alexeï Semionovitch Moussine-Pouchkine [Moussine] b. 1730 d. 1817
27 August 1835 death:
Notes
Elle fut la sœur de Frédérique-Eléonore von Wartensleben (von Hatzfeldt), grand-mère de Georges Charles de Heeckeren d'Anthès qui tua en duel le poète Alexandre Sergueïevitch Pouchkine.
Elle fit de son neveu Ivan Petrovitch Moussine-Pouchkine son héritier.
Elle appartint à une ancienne famille de la noblesse rhénane et son mari fut l'ambassadeur de l'impératrice Catherine II ou Ekaterina II Alexeïevna auprès de la cour de Saint James du roi du Royaume-Uni et de Hanovre George III.
Sources
↑ - * Voir en russe, Alexeï Semionovitch Moussine-Pouchkine
From grandparents to grandchildren
Grandparents
Grandparents
Parents
Parents
== 3 ==

♂
Alexeï Semionovitch Moussine-Pouchkine
== 3 ==