As of 18 August 2010, you must register to edit pages on Rodovid (except Rodovid Engine).
Muhammad ibn Abdullah ? (The Prophet, Al Hashim) b. estimated 20 April 571 d. 8 June 632
From Rodovid EN
Person:28188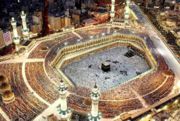 Events
estimated 20 April 571 birth: Mecca, Arabia
child birth: ♀ w Essayda Fatma Ez-Zahra [Hachémite] d. 28 August 632
marriage: ♀ Марийа аль Кыбтыйа [Аль Кыбтыйа]
about 603 child birth: ♂ w Qasim ibn Muhammad [Bani Hashem] b. about 603 d. 605
8 June 632 death: Medina, Arabia
Notes
The prophet of Islam, Mohammed, was also known as Abul Qassim (Father of Qassim).
[edit]
Sources
From grandparents to grandchildren
Grandparents
Grandparents
Parents
Parents
== 3 ==
== 3 ==
Children
Children
Grandchildren
Grandchildren