As of 18 August 2010, you must register to edit pages on Rodovid (except Rodovid Engine).
Stanisław Żółkiewski b. 1547 d. 7 October 1620
From Rodovid EN
Person:249490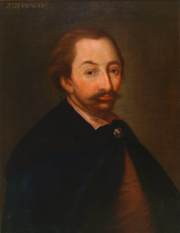 Events
1547 birth: Turinka
child birth: ♂ Ян Жолкевський [Zolkiewsky]
child birth: ♀ Katarzyna Żółkiewska [Zolkiewsky] d. 1619
marriage: ♀ Regina Herburt (Żółkiewska) [Herburt]
about 1590 child birth: ♀ Zofia Żółkiewska (Daniłowicz) [Zolkiewsky] b. about 1590 d. 1634
7 October 1620 death: Mogilev
Notes
A Polish nobleman, magnate and military commander who took part in many campaigns both in Poland and on its southern and eastern border. He held a number of notable posts in the administration of the Polish-Lithuanian Commonwealth, including the castellan of Lwów (from 1590), voivod of Kijów Voivodship and Great Chancellor of the Crown (from 1618). Following 1588 he was also a Field Crown Hetman, in 1613 promoted to Grand Hetman of the Crown. During his lifetime he won major military victories against Muscovy, the Ottoman Empire and Tatars. He was first European invader of Russia to seize Moscow and the only one who captured the capital of this country.
From grandparents to grandchildren
Grandparents
Grandparents
Parents
Parents
== 3 ==
== 3 ==
Children

♂
Stanislaw Koniecpolski

♂
Іван Станіславович Данилович
Children
Grandchildren

♂
Якуб Собеский

♂
Mehmed Abaza
birth: 1576, Tunisia, Ottoman Empire
title: from 1618 - 1619,
Wali of Aleppo
title: from 1619 - 1622,
Beylerbey of Erzurum
title: from 1623 - 1628,
Ruler of Independent Vilayet of Erzurum
title: from 1628 - 1631,
Governor of Bosnia
military service: 1628,
Kapudan Pasha
title: from 1631 - 1632,
Governor of Silistra
title: 1633,
Governor of Vidin
marriage
:
♀
Koniecpolska
, Iași, Moldavia
death: 23 August 1634, Istanbul, Ottoman Empire,
Executed on the orders of Sultan Murad IV
burial: 24 August 1634, Istanbul, Ottoman Empire
Grandchildren