As of 18 August 2010, you must register to edit pages on Rodovid (except Rodovid Engine).
Ennius Oening
From Rodovid EN
Person:132273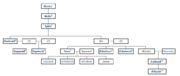 Events
child birth: ♂ Athelric Enisson [Wuffingas]
estimated 590 child birth: ♂ Anna Enisson [Wuffingas] b. estimated 590 d. 654
between 616 and 624 title: Prince of East Anglia
Notes
This is a controversial record that may be under dispute.
Please read discussion page for details and discuss substantial changes here before making them. Make sure to supply full citations when adding information and consider tagging or removing uncited/unciteable information.
[edit]
Sources
↑ B. Colgrave and R.A.B. Mynors (eds). (1969). Bede's Ecclesiastical History of the English People. Oxford. -
↑ D.N. Dumville. (1976). 'The Anglian Collection of Royal Genealogies and Regnal Lists' in Anglo-Saxon England 5, 23-50. -
↑ S. Plunkett. (2005). Suffolk in Anglo-Saxon Times. Stroud: Tempus Publishing -
From grandparents to grandchildren
Grandparents
Grandparents
Parents
Parents
== 3 ==
== 3 ==
Children
Children
Grandchildren
Grandchildren