As of 18 August 2010, you must register to edit pages on Rodovid (except Rodovid Engine).
Batu ou Bat Khan ou Batou b. 1205 d. 1255
From Rodovid EN
Person:94922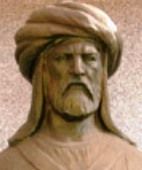 Events
1205 birth: Empire mongol
child birth: ♂ w Toqoqan [Descendants of Jochi]
child birth: ♂ Аюхан [Джучиды]
child birth: ♂ Sartaq [Descendants of Jochi] d. 1256
marriage: ♀ Боракчин-хатун [Алчи-татары] d. 1257
from 1242 - 1255 title: khan
1255 death: Saraï Batu, capitale des khans de la Horde d'or
Notes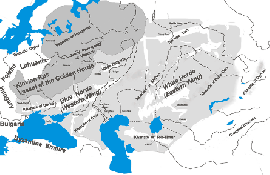 Vers 1227, il fut le premier khan de la Horde bleue.
1236, il reçut de son oncle et suzerain, le grand khan Ögedeï, le commandement d'une armée mongole dont l'objectif fut la conquête de l'ouest.
1238, les Mongols défirent tous les princes russes, massacrant ou réduisant en esclavage la population de ces villes. Toutes les principautés russes durent se soumettre et payer un tribu aux mongols. Ceux-ci s'installèrent définitivement sur la basse-Volga.
1243, il fonda la Horde d'or ou khanat de Qiptchaq, horde signifiant résidence du gouverneur, palais ou encore camp.
1250, il favorisa son parent Möngke pour accéder au titre de grand khan.
1255, il mourut à Saraï.
Sources
From grandparents to grandchildren
Grandparents
Grandparents
Parents
Parents
Children
Children
Grandchildren
Grandchildren