As of 18 August 2010, you must register to edit pages on Rodovid (except Rodovid Engine).
Герман Иванович Шоофс
From Rodovid EN
Person:419064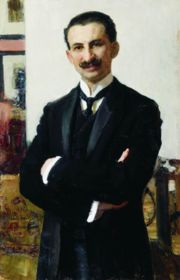 Events
birth: Тифлис, Российская империя
graduation: Петербург, Российская империя, кандидат физико-математических наук
occupation: Петербург, Российская империя, главно-уполномолченный для России общества страхования жизни «Эквитебль»
residence: Петербург, Российская империя, Адреса: СПб., Большая Дворянская 29 (1895), Дмитровский пер. 1-7 (1901), ул. Стремянная 5 (1913-1917) и дача в Павловске
emigration: Франция (?), после революции, по некоторым сведениям, эмигрировал во Францию
marriage: ♀ Ольга Владимировна ? (Шоофс) [?]
death: Франция (?)
Notes
Вегетарианец, друг И.Е.Репина, был министром (?); Имеется 2 его портрета работы Репина.
Sources
↑ Воспоминания К. И. Чуковского - об участии И.Е. Репина и его жены Н.Б. Нордман-Северовой на вегетарианских обедах у Г.И. и О.В. Шоофсов см. в воспоминаниях К.И. Чуковского.
From grandparents to grandchildren
Parents
Parents
== 2 ==
♂
Jewgienij Iwanowicz Schoofs (Schofs)
residence: from 1870 - 1890, Tiflis, Georgien,
Tyflis (1870-1890, 1904-1941), Petersburg (1890-1904)
birth: 2 November 1870, Tiflis, Georgien
marriage count:
2
marriage
:
♀
Лидия Ивановна Высочанская-Иванова (Шоофс)
marriage
:
♀
Anastasja Małygina
occupation: from 1890 - 1904, Sankt Petersburg, Russland,
флейтист в Имп. оперном театре в СПб. (1890-1904)
residence: from 1890 - 1904, Sankt Petersburg, Russland
residence: from 1904 - 1941, Tiflis, Georgien
occupation: from 1904 - 1941, Tiflis, Georgien,
в оперном театре им. Палиашвили, в театре им. Руставели в Тбилиси (1904-1941)
death: 2 October 1942, Bałpyk, Kazachstan,
zmarł na zesłaniu w aule Bałpyk (Kazachstan)
♂
Фриц Иванович Шоофс
birth: estimated 1872
residence: Киев, Российская империя, предположительно Киев
emigration: Бразилия, Возможно, эмигрировал в США. В Реестре призывников США в Первую мировую войну 1917-1918 гг. значится Fritz Karl Schoofs, 1872 г.р. Возможно, это Фриц Иванович Шоофс. См.: http://doppelganger-week.com/research/collection-10513/%D1%80%D0%B5%D0%B5%D1%81%D1%82%D1%80-%D0%BF%D1%80%D0%B8%D0%B7%D1%8B%D0%B2%D0%BD%D0%B8%D0%BA%D0%BE%D0%B2-%D1%81%D1%88%D0%B0-%D0%B2-%D0%BF%D0%B5%D1%80%D0%B2%D1%83%D1%8E-%D0%BC%D0%B8%D1%80%D0%BE%D0%B2%D1%83%D1%8E-%D0%B2%D0%BE%D0%B9%D0%BD%D1%83-1917-1918?lang=RU&formId=collection_10513%3AsearchFormDef&formMode=&action=query&exactSearch=0&useTranslation=1&qname=Name+fn.Fritz%2F3Karl+ln.Schoofs

♀
Ольга Владимировна ? (Шоофс)
== 2 ==