As of 18 August 2010, you must register to edit pages on Rodovid (except Rodovid Engine).
Абака Гулаків син Чингізханов b. 1234 d. 1282
From Rodovid EN
Person:279419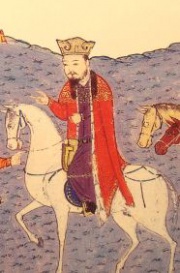 Events
1234 birth: Монгольская империя
child birth: ♂ Гайхат Абакаев сын Чингизханов [Чингизхановы] d. March 1295
child birth: ♀ w Ольджат Абакаева Дочь Чингизханова [Чингизхановы]
marriage: ♀ Maria Palaiologina (Despina) - (Épouse d'Abaqa Khan) [Paléologue]
about 1258 child birth: Татарське царство, ♂ Аргун Абакаєв син Чингізханов [Чингізханови] b. about 1258 d. 9 March 1291
from 1265 - 1282 title: ільхан
1282 death: Хамадан, государство Хулагуидов
Notes
сын и наследник Хулагу. Был женат на кровной дочери Михаила Палеолога, императора Византии. бабушкой его матери была дочь Чингизхана Чичиган.
В 1264 армия Гулагу была побеждена Беркеем и татарская армия вступила в Закавказье. Во время этой кампании князь Ногай (внук Жучи от его седьмого сына Тевала), который был во главе авангарда, потерял глаз. Гулагу умер в 1265 и Беркей умер через два года в Тифлисе, когда он уже почти должен был начинать наступление во главе 300.000-ной армии против империи Абаги. Илхан Абага (или Абака) запретил переход правящих моноголов в ислам и проталкивал буддизм, подобно своему отцу.
Дочь Чингиз-хана Чичиган была одновременно бабушкой матери Абага, чья империя простиралась от реки Аму-Дарья до Сирии с ее центром в Табризе. Мангу-Темир продолжал воевать против Абаги в союзе с Кайду, внуком Огатая, который был повелителем обеих половин Туркестана и претендентом на монгольский трон. Однако, Кублай победил Кайду в 1270 и помог Абаге заключить мир с Золотой Ордой.
Ильхан (султан) Ирана.
Sources
↑ - * Voir, liste des khans mongols de Perse
From grandparents to grandchildren
Grandparents
Grandparents
Parents
Parents
Children
Children
Grandchildren
Grandchildren