As of 18 August 2010, you must register to edit pages on Rodovid (except Rodovid Engine).
Iakov Villimovitch Bruce b. 11 May 1669 d. 30 April 1735
From Rodovid EN
Person:217503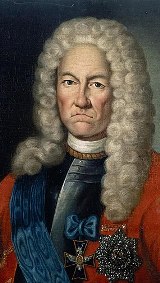 Events
11 May 1669 birth: Moscou, Tsarat de Russie
January 1695 marriage: ♀ Marfa Andreïevna Zoege von Manteuffel (Bruce) [Manteuffel] b. 13 July 1675 d. 30 April 1728
1709 title: ordre de Saint-André
1721 title: comte
1725 title: ordre de Saint-Alexandre Nevski
30 April 1735 death: domaine de Glinka du gouvernement de Moscou de l'Empire russe
burial: Moscou, église luthérienne Saint-Michel de la colonie allemande
Notes
Source Wipidépia Jacob Bruce
Il fut d'origine écossaise.
Avant 1649, la famille s'installa dans le Tsarat de Russie.
Il fut le frère cadet de Roman Villimovitch.
Il fut un compagnon du tsar Piotr I Alexeïevitch ou Pierre I le Grand.
1709, lors de la grande guerre du Nord, il fut chargé de moderniser l'artillerie dont il commanda les forces à la victorieuse bataille de Poltava.
Il reçut la plus haute distinction, l'Ordre de Saint-André.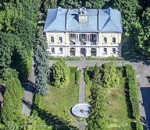 1702, il créa le premier observatoire situé au dernier étage de la tour Soukharev à Moscou (aujourd'hui détruite).
1727, il acheta au prince Dolgoroukov le village de Glinka du gouvernement de Moscou, situé près de Lossino-Petrovski (et occupé aujourd'hui par un sanatorium). Il se retira dans son domaine de Glinka pour se consacrer à l'érudition scientifique, sa bibliothèque scientifique comprit plus de 1 500 volumes qui formèrent la base de la bibliothèque de l'Académie impériale des sciences.
1735, il mourut sans héritier (ses deux filles moururent en bas âge) et son neveu, le général de division Alexandre Romanovitch Bruce hérita de Glinka, puis ce fut le fils de celui-ci, Iakov Alexandrovitch Bruce, enfin le gendre d'Iakov Alexandrovitch, Vassili Valentinovitch Moussine-Pouchkine-Bruce.
Sources
↑ - * Voir en russe, Iakov Villimovitch Bruce
From grandparents to grandchildren
Grandparents
Grandparents
Parents
Parents
== 3 ==
== 3 ==