As of 18 August 2010, you must register to edit pages on Rodovid (except Rodovid Engine).
Méliké Osman (Princesse) b. 23 August 1923
From Rodovid EN
Person:1384527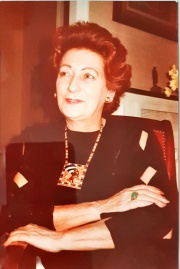 Events
23 August 1923 birth: Turquie, Palais de Dolmabahçe, Istanbul - situé à Istanbul, en Turquie, sur le côté européen du Bosphore, a été la résidence du sultan de 1853 à 1922, à l'exception d'une vingtaine d'années, entre 1889 et 1909, où fut utilisé le palais de Yıldız. Alors centre administratif de l'Empire ottoman, c'est aujourd'hui un musée géré par la Direction du Palais National (Millî Saraylar Daire Başkanlığı) de la Grande Assemblée nationale de Turquie.
marriage: ♂ Alfred Giraudy [Giraudy] b. 1914 d. 1998
14 December 1949 child birth: Nice, France, ♂ Erol Giraudy-Osman (Giraudy) [Giraudy] b. 14 December 1949
Notes
Genealogy of the Imperial Ottoman Family 2005 (book on-line) [1]
Palais : Le Palais de Dolmabahçe a Istanbul [2]
From grandparents to grandchildren
Grandparents
♀
Hatice Sadiye Hanımefendi
birth: 1 April 1898, Istanbul, Istanbul Vilayet, Ottoman Empire,
Kabataş, Beyoğlu
marriage
:
♂
Şehzade İbrahim Tevfik Efendi
, Beşiktaş, Istanbul, Istanbul Vilayet, Ottoman Empire,
Dolmabahçe Palace
divorce
:
♂
Şehzade İbrahim Tevfik Efendi
death: 9 August 1986

♀
Hayriye Seifoulline
Grandparents
Parents
♀
Fatma Zehra Sultan
birth: 28 May 1895, Beşiktaş, Yıldız Palace, Istanbul, Istanbul Vilayet, Ottoman Empire
death: 26 May 1965, Istanbul, Turkey
♀
Rabia Nilüfer Sultan
birth: 22 October 1912, Ortaköy, Ortaköy Palace, Istanbul, Istanbul Vilayet, Ottoman Empire
death: 21 September 1997, New York City, United States
♀
Ayşe Fethiye Sultan
birth: 20 August 1916, Beşiktaş, Kuruçeşme, Istanbul, Istanbul Vilayet, Ottoman Empire
death: 1944, Cairo, Cairo Governorate, Egypt

♀
Fevziye Osmanoğlu Sultan ? (Sai)
birth: 28 October 1928, Paris, Île-de-France, France
death: 7 April 2014, Décès à PARIS, France Son Altesse Impériale la princesse Fevziye Osmanoglu,
Parents
== 3 ==

♀
Emiré Osman (Princesse)
birth: 7 December 1927, France, Nice,
Née en 1927 - Nice, 06088, Alpes-Maritimes, Provence-Alpes-Côte d'Azur, France Princesse OTTOMAN, Famille Impériale de TURQUIE, Infirmière, Direction École, Gérante d'une Pâtisserie,
marriage
:
♂
Joseph-René Chauvel
, Nice (06)
death: 23 May 2004, Nice,
Décédée le 23 mai 2004 (dimanche) - Nice, 06088, Alpes-Maritimes, Provence-Alpes-Côte d'Azur, France, à l'âge de 76 ans
♂
Alfred Giraudy
== 3 ==
Children
Children
Grandchildren
Grandchildren