As of 18 August 2010, you must register to edit pages on Rodovid (except Rodovid Engine).
Gerard II von Geldern b. estimated 1090 d. before 1134
From Rodovid EN
Person:126223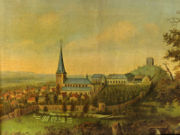 Events
estimated 1090 birth:
title: Comte de Zutphen
marriage: ♀ Ermengarde von Zutphen [Zutphen] b. estimated 1100 d. before 1138
1117 child birth: ♂ w Heinrich I von Geldern [Flamenses] b. 1117 d. 1182
1129 title: Comte de Gueldre
before 1134 death:
burial: kerk van Wassenberg
Notes
Graaf van Gelre en Wassenberg. Moet Wassenberg opgeven. 1113 graaf van Zutphen met o.a. Deventer, Rheden en grafelijke rechten en bezittingen in Friesland en Westfalen.
Sources
From grandparents to grandchildren
Grandparents
Grandparents
Parents
Parents
Children
Children
Grandchildren
Grandchildren