As of 18 August 2010, you must register to edit pages on Rodovid (except Rodovid Engine).
Engelbert van Horne b. estimated 1195 d. between 1264 and 1271
From Rodovid EN
Person:119980
Events
estimated 1195 birth:
marriage: ♀ Ermegard van Mierlo [Mierlo] b. estimated 1210
before 1243 child birth: ♂ w Willem I van Cranendonck [Cranendonck] b. before 1243 d. between 14 November 1282 and 22 May 1289
1252 child birth: ♂ Arnt Stamelart van Bruheze van Wedert (Valkenswaard) [Bruheze] b. 1252 d. after 1326
between 1264 and 1271 death:
Notes
In 1243 genoemd als heer op het kasteel Horn.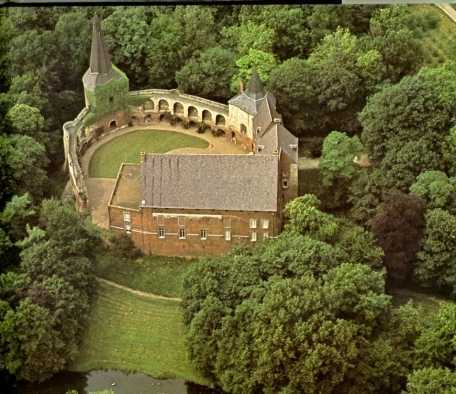 Vermoedelijk was het Engelbert die tussen Maarheeze en Soerendonk een kasteel liet bouwen. Het kasteel werd 'Cranendonck' genoemd, naar de natuurlijke omstandigheden ter plaatse (kraan'' van kraanvogel en 'donk' van heuvel). Begin dertiende eeuw bezat de edelman Dirk van Altena goederen in de omgeving van Maarheeze. Ook het gebied Hugten behoorde daartoe. In 1223 droeg Dirk van Altena zijn bezitsrechten over Hugten over aan de Munsterabdij in Roermond. Na zijn kinderloze dood in 1242 erfde Dirks neefje Engelbert van Horne de goederen. Het klooster van Aken vond Engelbert, als Heer van Cranendonck, bereid voogd te zijn over haar kerkelijke goederen in Budel. Vanuit deze positie wist Engelbert steeds meer rechten in Budel te verwerven, zoals het aanstellen van schout en schepenen. Hiermee werd de basis gelegd voor de toevoeging van Budel aan Cranendonck, twee eeuwen later in 1421. Vanaf dat moment bestond de hoge heerlijkheid (later Baronie) Cranendonck uit de dorpen Maarheeze, Soerendonk en Gastel en Budel. De zoon van Engelbert van Horne, Willem, is de eerste die zich Heer van 'Cranendunc' noemt.
From grandparents to grandchildren