As of 18 August 2010, you must register to edit pages on Rodovid (except Rodovid Engine).
Артур Винсент (Наум Израилевич) Лурье b. 14 May 1892 d. 13 November 1966
From Rodovid EN
Person:1060280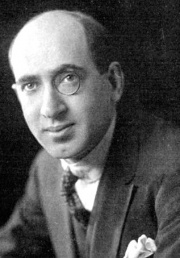 Events
14 May 1892 birth: Пропойск
1934 marriage: ♀ Елизавета Алексеевна Белёвская (Перевозчикова, Лурье) [Белёвские-Жуковские] b. 8 September 1896 d. 30 July 1975
13 November 1966 death: Принстон
Notes
Российско-американский композитор и музыкальный писатель, теоретик, критик, один из крупнейших деятелей музыкального футуризма[1] и русского музыкального авангарда XX столетия.
From grandparents to grandchildren
Grandparents
Grandparents
Parents

♂
Абель (Альберт) Лурия
birth: 1840
birth: 1886
Parents
== 3 ==
== 3 ==