As of 18 August 2010, you must register to edit pages on Rodovid (except Rodovid Engine).
Daniel Kelley Gordon b. 1838 d. 1915
From Rodovid EN
Person:63079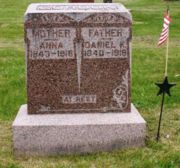 Events
1838 birth: Maine, United States
marriage: ♀ Rose Ann Irvin [Irvin]
19 November 1861 child birth: State of Maine, United States, ♂ Dudley Johnston Gordon [Gordon] b. 19 November 1861 d. 13 March 1939
1863 military service: Vermont, United States, Vermont Volunteers, Civil War
18 June 1866 child birth: ♀ Margaret Burr Gordon (Hanson) [Gordon] b. 18 June 1866 d. 24 February 1934
1915 death: United States
Notes
GORDON, DUDLEY (of Daggett Brook) Given by Himself, Recorded by Rose Parker, Dec. 1937 The Museum has two notably fine pieces of handwork,- a miniature logging-sleigh and load of logs, and a miniature logging camp. Both the work and free-will gift of Mr. Dudley Gordon of Daggett Brook. This Gordon family's native hearth is the old state of Maine,-"three generations of lumber-jacks, as they proudly proclaim". The father's name was Daniel Johnston Gordon. He had five children, but only two of them are related to our county history. Daniel Kelly Gordon, the eldest of the five, was born in the state of Maine, and not long after, in the neighboring province of Nova Scoti was born Rosanne Irvin. The two met and were married. Four children were born to them, Daniel, the 34d, Anna Mary, Margaret Burr, and Eliphalet. The two daughters are deceased, one son lives in La Crosse, Wisconsin, and one in this county. Daniel came to the county in 1897, looked about for awhile and located on a farm near Daggett Brook. Dudley Gordon was also born in Main, November 19, 1861, the year after Daniel 2nd had married. Daniel had enlisted to fight for the North in the Civil War. They had been lving in La Crosse, but he took his family back to Maine, so he could enlist from there,-would not be drafted. He served two years under the command of General Sherman, and marched with him to the sea. "He used to paint it pretty black--the way in which Sherman destroyed the South. "We whipped 'em,-and then destroyed their lands'". The older Daniel was wounded, and carried a 'game knee' for the remainder of his days. "We've always been good, staunch democrats", his son declares, "Although I never was a radical. I think I could put up quite a political argument along those lines whenever the question was presented. And we've always been Presbyterians, too". (By which, it is easy to see these are dyed-in-the-wool Scotch Gordons, if we go far enough back.) Daniel Johnston Gordon died in 1914, and his wife followed, the same year. Both are buried at La Crosse.
From grandparents to grandchildren
Grandparents

Grandparents

Parents

Parents

Children

Children

Grandchildren

Grandchildren