As of 18 August 2010, you must register to edit pages on Rodovid (except Rodovid Engine).
Louis II of Hungary b. 1 July 1506 d. 29 August 1526
From Rodovid EN
Person:280740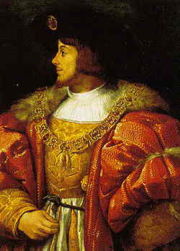 Events
1 July 1506 birth: Buda
marriage: ♀ Maria d'Autriche [Habsbourg] b. 17 September 1505 d. 18 October 1558
between 1516 and 1526 title: King of Hungary
between 1516 and 1526 title: King of Bohemia
29 August 1526 death: Mohács, He was killed in the Battle of Mohács while leading his forces against Suleiman the Magnificent of the Ottoman Empire.
Notes
Ludwig II. war in anderen Sprachen bekannt als: II. Lajos (ung.), Ludvík Jagellonský (tschech.), Ludvík II. Jagelović (kroat.), Louis II of Hungary (engl.), Louis II de Hongrie (franz.), Luis II de Hungría (span.). Sein Vater verlobte ihn noch vor seiner Geburt.
His father betrothed him even before birth. July 22, 1515 in Vienna at St. Stephen's double wedding took him and his sister Anna with the Austrian princess and prince. In January 1522 he was declared of age and was crowned in Székesfehérvár. The country, which he took, has been weakened by infighting. Despite the help of his clever and politically gifted wife, Layoschu unable to organize resistance to the Turkish expansion of Suleiman the Magnificent. He was killed at the Battle of Mohacs, and his remains were found in only two months.
From grandparents to grandchildren
Grandparents

Grandparents

Parents

Parents