As of 18 August 2010, you must register to edit pages on Rodovid (except Rodovid Engine).
Władysław III of Poland (Henry the German) b. 31 October 1424 d. 10 November 1444
From Rodovid EN
Person:117129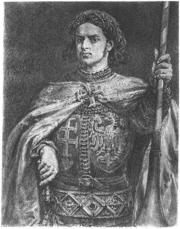 Events
31 October 1424 birth:
child birth: ♂ Alves Henriques (de Girao) [Henriques]
child birth: ♂ Sigismund Henriques (de Girão) [Henriques]
marriage: ♀ Ana Enriques (Avis) [Aviz] , ♂ Henrique Alemao [Jagiellon]
from 1434 - 1444 title: King of Poland
from 1440 - 1444 title: King of Hungary
10 November 1444 death: Varna, Bulgaria, Body never found, Sarcophagus is symbolic
after 1460 death:
Notes
| | |
| --- | --- |
| | This record needs sources. Please help this record by adding reliable references. Unsourced material may be challenged and removed. |
Contemporary of Ethiopian King Zara Yaqob ? (Ge'ez, Prester John, Kwestantinos I) (?, b. 1399 d. 1468) and kinsman pt:John de Drumond (Escócio) (Drummond, b. estimated 1390 d. between 1460 and 1470)
From Wikipedia:
According to Portuguese legend Władysław survived the Battle of Varna (although the Turks claimed to have his head, his body in royal armor was never found) and after his journey to the Holy Land he settled on Madeira Island. King Afonso V of Portugal granted him the lands in Cabo Girão district of the Madeira Islands, rent-free for the rest of his life. He was known there as Henrique Alemão (Henry the German) and married Senhorinha Anes (the King of Portugal was his best man), who gave him two sons. Later he become knight of Saint Catharine of Mount Sinai (O Cavaleiro de Santa Catarina) and established a church of Saint Catherine and Saint Mary Magdalene in Madalena do Mar (1471). There he was portraited as Saint Joachim (São Joaquim) meeting Saint Anne at the Golden Gate on a painting by Master of the Adoration of Machico (Mestre da Adoração de Machico) in the beginning of the 16th century.
According to legend, he felt his defeat in battle as a warning from God (since he declared war on a false pretext, violating the truce with the Ottoman Turks), and he wandered as a pilgrim, seeking forgiveness, he found in Jerusalem. For the rest of his life he would live in total denial of any Polish title; there are historical records that Polish monks went to Madeira to question him and certified he was in fact long lost King Wladislaw III, living in secrecy, and that he refused to return to Poland and assume the throne.
Trade alliance between Madiera and Socotra
May 1487 the Portuguese (Pero d Coviha and Afonso de Paiva) are received at the royal court of "Prester John (Zara Yaqob)" in Ethiopia. Socotra falls under Portuguese control. In 1507 Eleni Bint Mehmad (of Hadiay) (Hadidi, d. April 1522) writes a letter to Manuel I of Portugal seeking aid against the Ottoman expansion. (The old legends of Prester John originated in the mythology of Christian Europe in connection with John the Beloved, a disciple of Christ, but was grafted on to the European Monarch by Europeans at a later date.)
[edit]
Sources
↑ V. "A Odisseia de Ladislau, o Varnense", DRAC, Funchal, 1996 -
From grandparents to grandchildren
Grandparents

Grandparents

Parents

Parents

Children

Children